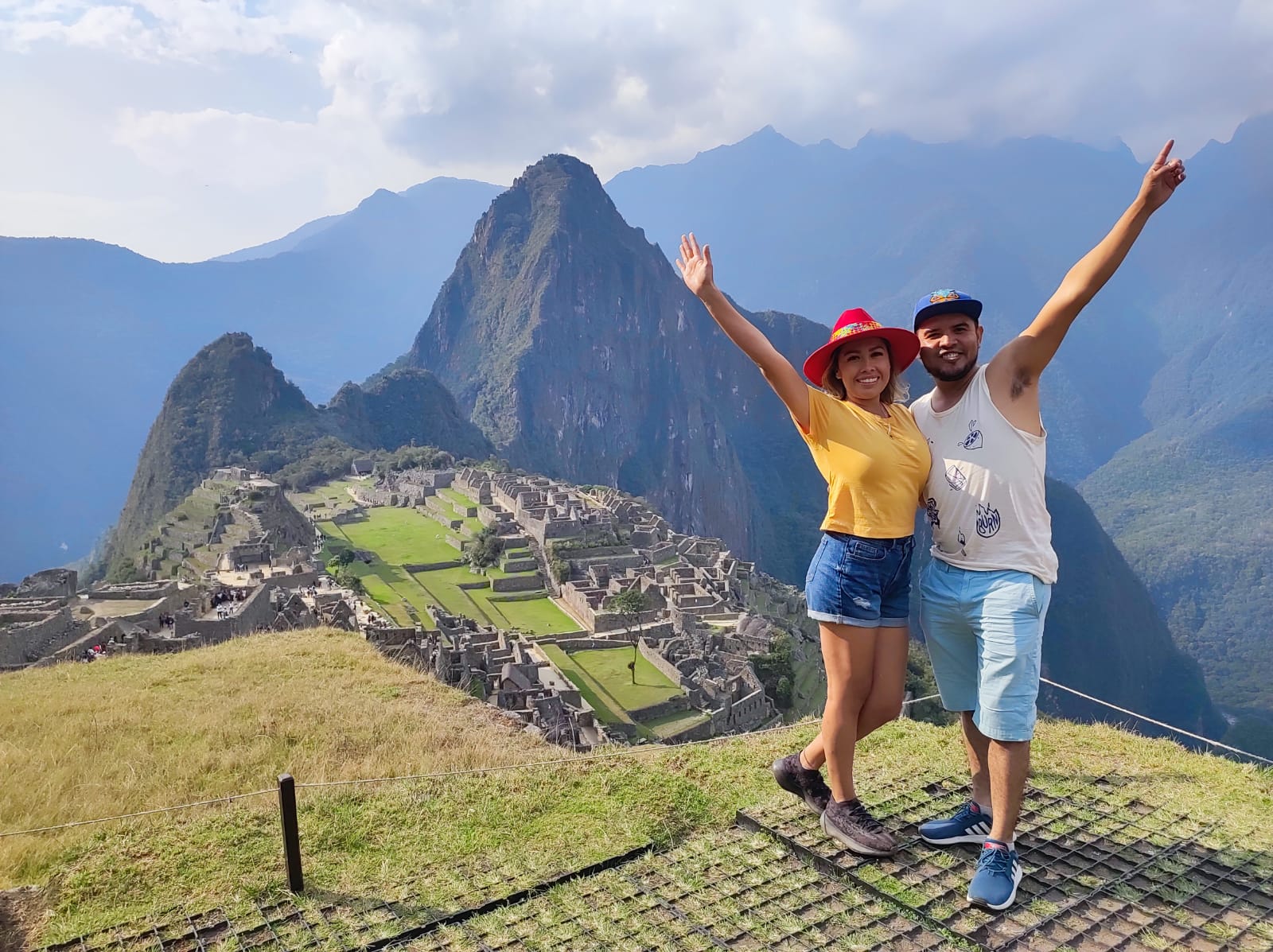 TOUR TO MACHU PICCHU PRICE 2022
Machu Picchu Tour Price | Machu Picchu Price | Machu Picchu Reservation | Price to Visit Machu Picchu
How much does Tour to Machu Picchu cost?
Let's get an average budget for your Machu Picchu vacation
Note: if you want to know the best time to travel to Machu Picchu click here.
You are planning your dream trip and you wonder how much it costs to go to Machu Picchu?
The writer is a tour guide with 12 years of residence and work in the llaqta of Machu Picchu; so I am interested in creating this blog, because there is always more than one with this question.
Actually there are different prices, but I will focus on an average or standard price.
We are going to take the city of Cusco as a starting point, because you must definitely get to Cusco from anywhere in Peru or abroad, to start your trip to the wonder of the world Machu Picchu.
We will pretend that you spend the night in Aguas Clientes Machu Picchu, if you do it without spending the night, you will only remove the hotel from your package.
Lines below we will break down what services you need, we will do it in order of importance.
Tags: Machu Picchu Tour Price, Machu Picchu Price, Machu Picchu Reservation, Price to Visit Machu Picchu
Tour to Machu Picchu 2 d/1n and
Machu Picchu 1 day
GENERAL ITINERARY of this Machu Picchu tour package
DAY 1: TOUR MACHUPICCHU 2 DAYS
 Pick up from the hotel
Bus travel; Cusco – train station (Cusco, Poroy, Urubamba, Pachar and/or Ollantaytambo)
Train ride; Ollantaytambo – Hot Waters
Arrival at the Aguas Calientes train station
hotel in Aguas Calientes
Bus trip Aguas Calientes – Machupicchu
Tour to Machu Picchu (2 hours and 30 min.)
Return by bus, Machu Picchu – Aguas Calientes
Train ride, Aguas Calientes – Ollantaytambo
Bus trip, Ollantaytambo – Cusco
Arrival to the city of Cusco (approximately)
DETAILED PROGRAM
The city of Cusco is extensive, so to get to the train station, even if the train is in the same city of Cusco, you will need a taxi. If the train ticket you bought is at a station outside of Cusco, there are collective transport provided by travel agencies, which usually pick you up from your hotel.
You will board your train at a certain station, the train travel time is according to which station you took your train, but they have only one destination, the train station in Aguas Calientes or Machu Picchu Pueblo, the train does not take you to the center archaeological eye with it.
If you have a hotel you will spend the night in the town and the next day you must take a minibus that takes 25 minutes.
Finally you are at the entrance of Machu Picchu, to visit that an average visit time is 2 hours and 30 minutes.
Finishing your visit you take the bus again to return to the town, have lunch and as follows to the train station. The same as on the way out, you can choose to arrive at any train station, mentioned above. To get to Cusco again you must take a transport, by the means you get, by agency, by the same train company or free.
SERVICES TO ACQUIRE
1.- TICKET TO MACHU PICCHU:
The most important thing: entrance ticket to Machu Picchu directly from the government or from reliable agencies, to take into account that tickets are easily sold out, especially the Waynapicchu ticket followed by the llaqta ticket; In addition to the schedules, the last one being distributed in 9 schedules, how much do the Machu Picchu 2022 tickets cost? , What is the best ticket or which circuit should I choose?
2.-TRAIN TICKET:
As a second place, it is recommended to buy a train ticket, another of the tickets that are sold out especially in terms of schedules, it may be that if you buy at the last minute there is no longer the schedule that fits with your time of entry to Machu Picchu, for this reason you must buy with a prudent time like a month before that allows you to choose the best hours and prices.
There are only 2 train companies that you can buy directly that are Peru rail and Inca rail or from any other authorized travel agency
3.-ACCOMMODATION:
Point number 3, if you plan to spend the night in the town of Machu Picchu or commonly called Aguas Calientes, it is better to have reserved an Accommodation of the category you prefer, although it is true that the spaces in the hotels will not be exhausted, you can get best prices and location.
In Machu Picchu town there are hotels from the most basic to 5 stars, for all tastes and prices. You can book it directly with the hotels that have their own website from 3 stars and above, the rest of the hotels are found in hotel metasearch engines such as booking.com, Expedia, Airbnb, etc.
If you plan to visit only one day, that is, round trip on the same day, you will skip this step.
4.-BUS TICKET OF THE CONSETTUR COMPANY
Point 4 would be the bus ticket, it refers to the minibus that takes you from Machu Picchu Pueblo to the Archaeological Center or Llaqta Machu Picchu, which takes 25 minutes to travel.
To take find that CONSETTUR is the only company that provides this service, there is no other type of mobility, or private cars or combis, etc.
This ticket can be obtained from the consettur.com company's own page or through another authorized travel agency. They do not run out, they do not have schedules, the buses leave every 5 minutes, they are valid for up to 3 days. You can buy it at the same ticket office located near the bus station; however, it is advisable to buy in advance to avoid unnecessary queues.
5.- TRANSPORT FROM CUSCO TO THE TRAIN STATION
Required when leaving, there are the buses, with your ticket, board the return bus to Machu Picchu Pueblo, in this town there are restaurants and markets, take the opportunity to have lunch and buy your souvenirs.
For your return, take into account that you must arrive at the train station 30 minutes before, at the time established on your ticket, the train will depart back to the Ollantaytambo station. Upon arrival we will be waiting outside the station, we will take our transport to continue the trip to the city of Cusco, the transport will leave you near the Plaza de Armas, end of our service.
This Machu Picchu tour package includes
Pick up from the hotel
Transfer, Cusco – Ollantaytambo,
Expedition train, Ollantaytambo – Aguas Calientes,
Bus, Aguas Calientes – Machu Picchu,
Entrance ticket to the citadel of Machupicchu
professional guide
Bus, Machu Picchu – Aguas Calientes
Expedition train, Aguas Calientes – Ollantaytambo
Transfer, Ollantaytambo – Cusco.
does not include
Food or drinks
gratuities
Optional
First class category train, vistadome, etc.
Machu Picchu Tour Price, Machu Picchu Price, Price to Visit Machu Picchu
How much does TOUR TO MACHU PICCHU COST, PRICES 2022
How much does it cost to go to Machu Picchu?
Here the summary of regular services
Machu Picchu Tour Price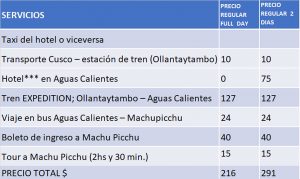 about them can vary as:
Private transportation from Cusco to the train station,
Choose to depart from different train stations (Cusco, Poroy, Urubamba, Pachar)
Train type, Vistadome, Hiram Bingam, firt class, 360, etc.
Entrance ticket to Mountain or Huaynapicchu
Private guide in Machu Picchu.
Hotel, up to 5 stars
If you want to make a guided Machu Picchu reservation click here.
FOR A PLEASANT TRIP TO MACHUPICCHU EXPEDIA RECOMMENDS 
what to bring
Identity document (passport or card)
Wear light and warm clothing the weather is very changeable
Between April and October wear light clothing, a wide-brimmed hat for the sun
Between November and March wear warm clothing, a windbreaker jacket, a hat for the cold, and a rain jacket.
Camera or camcorder
Bottle of water for the tour
Mosquito repellent
Sunscreen
personal medicines
Bathing clothes in case of visiting the thermal baths
Enjoy your Machu Picchu vacation.

If you want to know the best time to travel to Machu Picchu click here.
Tags: Machu Picchu Tour Price, Machu Picchu Price, Machu Picchu Reservation, Price to Visit Machu Picchu